Solder Fume Extractor and Absorber
Fumes Extraction System FumePRO201-75LC
Our powerful fume extraction system FumePRO201-75LC is a blessing to all those service professionals who unknowingly inhale toxic solder fumes. By using this fume extraction system you can rest be assured that 99.97% of the air around you will be free of harmful solder fumes. It is a powerful 2-operator solder fumes extraction system for ultimate air purification for your service center or manufacturing lab.
If you are looking for a perfect portable fume extractor or a solder fume absorber at the best price in India, then you are on the right page.
Some of our clients for Fume Absorbers, Fume Extractors and Fume Extraction Systems in India are ABB Ltd. (Bangalore), Nuclear Power Corporation of India Ltd., HCL Technologies Ltd. (Chennai), Hindustan Areonautics Ltd. (Hyderabad)., Amphenol Omniconnect India Pvt. Ltd., Aviohelitronics Systems Pvt. Ltd. (Bangalore), Bharat Electronics Ltd. (Jalahalli, Bangalore), Bharat Electronics Ltd. (CRL, Bangalore), Bharatiya Reserve Bank Note Mudran Ltd. (Mysore), Larsen & Turbo Ltd. (Mumbai), Lupin Ltd. (Pune), Microchip Technology India Pvt. Ltd. (Chennai).
FumePRO201-75LC is a volume extraction type powerful 2-Operators ready-to-use Solder Fume Extraction System. It is designed for continuous and reliable working on production line. It comes with powerful and maintenance-free brushless turbine combined with electronic speed control, provides clean working environment at low maintenance cost. The Electronic Speed Controller continuously regulates the air-flow volume.
2-Operators ready-to-use Solder Fumes Extraction System Model FumePRO201-75 is fitted with 3-stage Filters:
Pre-Filter: It is the Stage 1 of the solder fume filtration process. The 'Pre-Filter' filters the bigger size particles for prolonging the life of both Middle and Main Filters. This filter is made up of polypropylene.
Middle Filter: It is the Stage 2 in filtration of solder fumes. It filters coarse size fume particles to prolong the life of expensive HEPA Filter. This filter is made up of fiberglass.
HEPA Filter: Main HEPA Filter is the Stage 3 filter. This Filter is of activated charcoal type which absorbs all harmful gas substances to provide clean air finally to the engineers or professionals working at industries or research centers. This filter is made up of fiberglass.
The perfect combination of these Filters cleans polluted air by separating 99.9% contaminated solder fumes. This System is designed for use both in industrial and laboratory environment. The only thing required by FumePRO201-75 is the Mains Input Power Supply. These Filters are tested at the laboratories of INDE Enterprises for Efficiency and Resistance and were tested using sodium flames.
Under normal circumstances the Pre-Filter only needs periodic replacement when there is less suction of solder fumes. All 3 Filters mentioned above should never be washed nor should be cleaned with compressed air at all.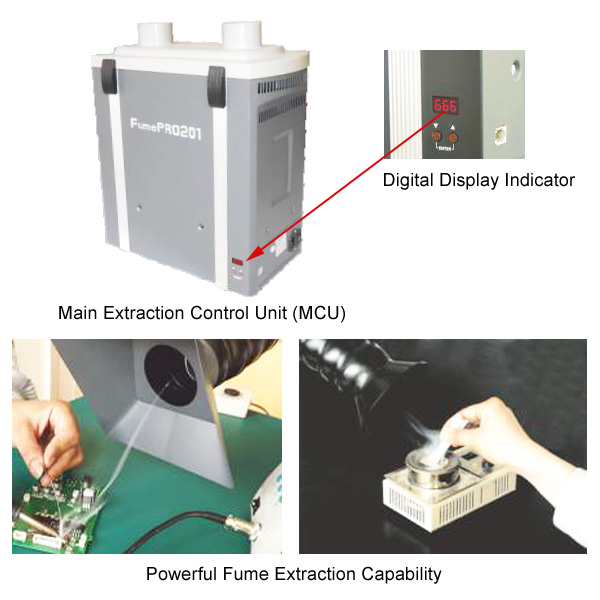 Features
FumePRO201-75LC comes with Main Filter Indicator (LED Display). It is illuminated to indicate that the system requires a Main Filter replacement.
System Choke Alarm is another feature to highlight here. It activates the alarm system of inside FumePRO201-75LC when the hose or extraction arms are choked and needs cleaning.
You can set the Work Period Setting. According to the volume of solder fumes in the area, working period of the unit can be set. If the main filter is jammed or exceeds time, the System will sound an alarm to replace the filters.
Specifications
Input Power Supply : 230V/50Hz, 120W
No of Workplaces : 2
Stationary Pressure : 2200Pa
Maximum Airflow Rate : 320m3/h
Filtering Efficiency (0.3um) : 99.97%
Noise Level : <65dB
Dimension (LxWxH) : 470x230x500mm
Weight : 8 Kg
Guaranteed availability of spare parts for all fume extraction systems sold by us
At INDE Enterprises we provide quick delivery of all spare parts as we keep enough stocks of the same all the time.