Digital Multimeters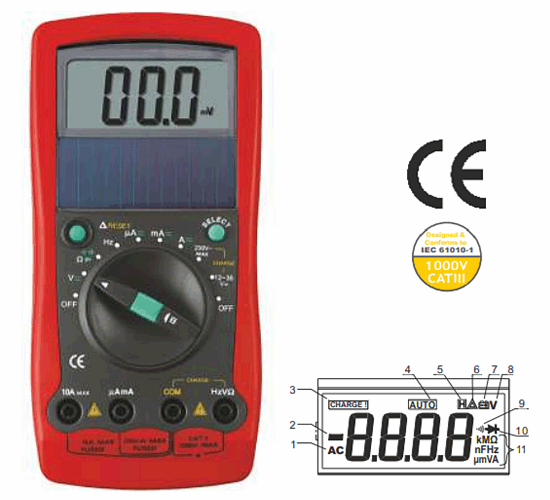 Digital Multimeter with Solar Panel & Re-chargeable Battery
Model: IRSDMM90
Auto Ranging with Frequency (upto 10MHz) & Capacitance.
4000 counts LCD display
In-built dual power recharging: Solar Panel & Re-chargeable Battery
Sleep Mode, Auto Ranging
Enhanced Protection, 10A & 400mA fused
Safety as per IEC1010-1, CAT.II 1000V
Audible Continuity & Diode Test
Dimensions: 179 x 88 x 39mm (approx)
Weight: 340 grams (approx)
Digital Multimeter
Test Leads
Carrying Case
 AC Voltage/Current Indicator
 Indicates negative reading
 Charge Indicator
 Auto Range Mode
 Data Hold Mode
 Shows present value minus stored value
 Low Battery Indication
 Voltage unit when charging is on
 The continuity Buzzer is on
 Diode Test Mode
 Voltage/Current/Resistance Unit
Digital Multimeter with Solar Panel & Re-chargeable Battery Model IRSDMM90 is a new generation of environment (ECO) friendly testing tool. It can be powered in three ways by 220V AC, 12-36V (DC or AC) and/or Solar Energy (through Solar Cells located on the front) without the need of battery, hence no chemical impact to the environment.
The packing of the multimeter is free of toxic chemical, and recyclable hence totally safe to the environment. The multimeter is 4,000 count auto-ranging digital multimeter and can measure DC & AC voltage, DC & AC current, resistance, capacitance, frequency, diode and continuity. It also offers large LCD display, full icon display, overload protection, data hold, relative mode features.