Digital Soldering Station Calibrator
BEST quality, highly accurate Digital Calibration Meters for Soldering Stations and Hot Air Rework Stations in India.
Unboxing and Demo of Soldering Station Calibrator ISC3192
3-in-1 Digital (mV/OHM/TEMP) Soldering Station Calibrator
Model: ISC3192
ISC3192 is a 3-in-1 (mV/Ohm/Temp) Soldering Station Calibration Digital Meter measures Tip to Ground Resistance, Tip to Ground Leakage Voltage, Soldering Tip Temperature.
Specifications
Measuring Range

Temperature: 0~600°C/32~1000°F
Voltage: 0~90 mV (AC)
Resistance: 0~90 Ω

Resolution

Temperature: 1°C/1°F
Voltage: 0.1mV
Resistance: 0.1 Ω

Accuracy

Temperature: ±3°C / ±3°F
Voltage: ±(3%±2 digit)
Resistance: ±(1%±2 digit)

Temperature Sensor
The ISC3192 is a versatile and precise 3-in-1 digital meter, ideal for calibrating soldering stations. This compact device offers accurate measurements for Tip to Ground Resistance, Tip to Ground Leakage Voltage, and Soldering Tip Temperature.
With a measuring range of 0 to 600°C (32 to 1000°F) for temperature, 0 to 90 mV (AC) for voltage, and 0 to 90 Ω for resistance, the ISC3192 is suitable for a wide range of soldering applications.
Equipped with a high-resolution display, it provides clear readings with a resolution of 1°C/1°F for temperature, 0.1mV for voltage, and 0.1 Ω for resistance. This level of precision ensures accurate calibration of soldering stations, enabling optimal performance and consistent results.
The ISC3192 boasts reliable accuracy, with temperature readings having a tolerance of ±3°C/±3°F, voltage measurements within ±(3%±2 digit), and resistance measurements within ±(1%±2 digit). These precise measurements guarantee the reliability and effectiveness of your soldering equipment.
Included in the ISC3192 is a temperature sensor, allowing you to monitor and adjust soldering tip temperatures with confidence. By ensuring the accuracy of tip temperature, you can achieve superior soldering results and maintain the integrity of your electronic components.
Compact and user-friendly, the ISC3192 is a valuable tool for professionals in electronics, soldering, and calibration. Whether you need to verify resistance, voltage leakage, or temperature, this digital meter provides the accuracy and functionality you require for efficient soldering station calibration.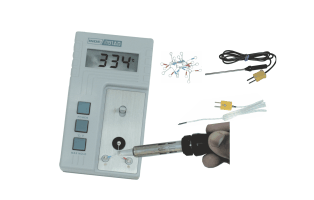 Digital Soldering Station Calibration Meter
Model: I191AD
I191AD is another Soldering Station Calibrator that is Low Cost Popular Digital Soldering Stations Calibration Meter for measuring Soldering Tip Temperature with 10 nos. spare Star type sensors & 1 no. K-type sensor.
Specifications
Measures soldering tip temperature quickly
Holds max temperature on pressing [MAX HOLD] Button
Both Celsius and Fahrenheit types reading possible
Scope of Supply: Digital Calibration Meter, K-type and Star type Temperature Sensors
Spare Star type Temperature Sensors and Thermocouples available
The I191AD is a highly regarded and budget-friendly digital meter specifically designed for calibrating soldering stations. This versatile device excels at measuring soldering tip temperature quickly and accurately, ensuring optimal performance and precise soldering results.
With its user-friendly interface, the I191AD allows you to effortlessly switch between Celsius and Fahrenheit readings, catering to your preferred temperature scale. This flexibility ensures compatibility with various soldering station models and user preferences.
The meter features a convenient [MAX HOLD] button that allows you to capture and retain the maximum temperature recorded, enabling easy monitoring and analysis of temperature fluctuations during soldering tasks.
The I191AD package includes the digital calibration meter itself, as well as both K-type and Star type temperature sensors. These sensors offer versatility and compatibility with different soldering stations, allowing for seamless integration into your existing setup.
To further enhance its value and usability, the I191AD also comes with 10 spare Star type temperature sensors and additional thermocouples. This ensures that you have an ample supply of backup sensors, eliminating any downtime due to sensor malfunction or wear.
In summary, the I191AD is a popular choice for those seeking an affordable and reliable digital meter for soldering station calibration. Its ability to measure soldering tip temperature quickly, along with its included sensors and spare parts, makes it a practical and cost-effective solution for both professionals and hobbyists in the field of electronics soldering.
Hot Air Rework Station / Desoldering Station Calibrator
Model: ISC3196
The ISC3196 is a specialized digital calibration meter designed specifically for calibrating Hot Air SMD Rework Stations, also known as Desoldering Stations. This meter focuses on accurately measuring the hot air temperature of these stations, ensuring precise and reliable temperature control during rework and desoldering processes.
Equipped with a temperature sensor, the ISC3196 allows for quick and accurate measurement of the hot air temperature at the station's air outlet. With a measurement range of 0 to 800°C (32 to 1500°F), it covers a wide spectrum of temperature requirements for various soldering and desoldering applications.
The meter incorporates an LCD display, providing clear and easy-to-read temperature readings. Additionally, it features a MAX HOLD function, which records and displays the highest temperature reached during the calibration process. This allows for convenient monitoring and analysis of temperature variations.
The ISC3196 includes an auto shut-off function, which can be programmed to turn off the meter after a specific duration of inactivity. This feature helps conserve battery power and ensures the longevity of the meter's operation.
Specifications:
Specifically designed for calibration of Hot Air Station.
Sensor measures temperature of air outlet quickly
Auto Shut-off function available, time can be programmed
MAX HOLD records the highest temperature
LCD Display Type
Measurement Range: 0~800°C (32~1500°F)