Digital Soldering Station Calibrator
BEST quality, highly accurate Digital Calibration Meters for Soldering Stations and Hot Air Rework Stations in India.
Unboxing and Demo of Soldering Station Calibrator ISC3192
3-in-1 Digital (mV/OHM/TEMP) Soldering Station Calibrator
Model: ISC3192
ISC3192 is a 3-in-1 (mV/Ohm/Temp) Soldering Station Calibration Digital Meter measures Tip to Ground Resistance, Tip to Ground Leakage Voltage, Soldering Tip Temperature.
Specifications
Measuring Range

Temperature: 0~600°C/32~1000°F
Voltage: 0~90 mV (AC)
Resistance: 0~90 Ω

Resolution

Temperature: 1°C/1°F
Voltage: 0.1mV
Resistance: 0.1 Ω

Accuracy

Temperature: ±3°C / ±3°F
Voltage: ±(3%±2 digit)
Resistance: ±(1%±2 digit)

Temperature Sensor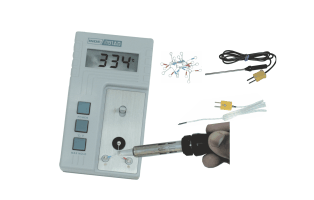 Digital Soldering Station Calibration Meter
Model: I191AD
I191AD is another Soldering Station Calibrator that is Low Cost Popular Digital Soldering Stations Calibration Meter for measuring Soldering Tip Temperature with 10 nos. spare Star type sensors & 1 no. K-type sensor.
Specifications
Measures soldering tip temperature quickly
Holds max temperature on pressing [MAX HOLD] Button
Both Celsius and Fahrenheit types reading possible
Scope of Supply: Digital Calibration Meter, K-type and Star type Temperature Sensors
Spare Star type Temperature Sensors and Thermocouples available
Hot Air Rework Station / Desoldering Station Calibrator
Model: ISC3196
ISC3196 Digital Calibraton Meter specifically designed for the calibration of Hot Air SMD Rework Stations (Desoldering Station), measures hot air temperature upto 800°C with ± 5°C accuracy. 
Specifications:
Specifically designed for calibration of Hot Air Station.
Sensor measures temperature of air outlet quickly
Auto Shut-off function available, time can be programmed
MAX HOLD records the highest temperature
LCD Display Type
Measurement Range: 0~800°C (32~1500°F)