150 Watt High Mass Soldering Station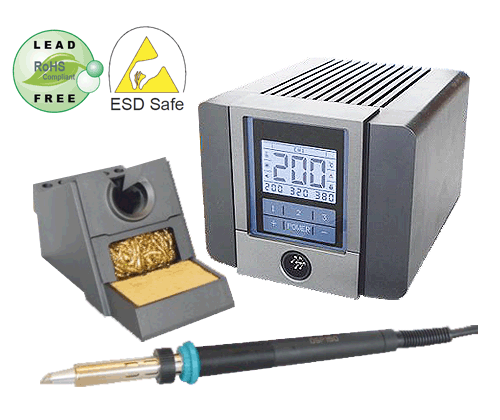 High Power 150 Watt new Digital Soldering Station
Model: DSSLF150ESD
3 Optimized Process Temperatures for on-line production use can be pre-programmed. All Spare Parts and all Soldering Tips are normally available with immediate delivery.
Features:
Power/Control unit has in-built following features:
- Touch Button Control Panel
- Password Protection
- In-built Temperature Calibration
- Sleep Time Mode for longer life
- Error Message indication
- 1-Touch Temperature Recalling
Reliable Heating Element lowers production running cost
Low priced longer life Soldering Tips lowers production cost
Normally IMMEDIATE delivery of Spare Parts to keep investment productive
150 Watt High Mass Soldering Station
Model: DSSHP03G
150 watt high power soldering station for heavy soldering applications that is affordably priced for production line usage.
Features:
Production workhorse for heavy mass soldering jobs
3.5 mm (normal soldering) to 16 mm (heavy mass soldering) Tips available
95% Solar Panels makers in China use this Soldering Station
Widely used by Power Capacitors & Automotive Parts Indian makers
Customized Soldering Tips for special applications available