New Products
4-Axis 150 Watt Highly Reliable Soldering Robot
Achieves consistency for each soldering joint and increases production rate with less workforce. Optional Solder Fume Extraction Unit is available. Multiple Units are now working with automotive customers PAN India in repeat orders.
We provide on-site operational training and keep all spare parts in stock. This model is of 300×300 mm X-Y travel with 4-Axis movement. Also similar Models available with 3-Axis movement and with X-Y travel from 200×200 mm to 500×500 mm.
Kolver Torque & Angle Programmable Electric Screwdrivers from 3 ~ 50 Nm
Kolver Italy has highest torque range type Electrical Screwdrivers for Precision Screw tightening for Automotive, Electronics and White Goods Industry. Kolver tools feature either shut off clutch or current control system, coreless or brushless motors all controlled by a state-of-the-art electronic control unit. Thanks to their low installation, operating and maintenance costs as well as to their reduced vibration and noise level, Kolver electric screwdrivers represent the perfect alternative to pneumatic screwdrivers for screws up to M10.
Kolver's ingenuity and experience have led to the development of Pluto (PLUs Torque) screwdrivers. They feature an innovative coreless electric motor with low inertia and friction with absence of iron losses for extreme efficiency and extended life.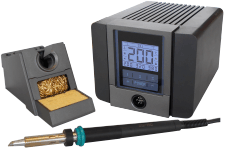 150 Watt ESD Safe Digital Soldering Station
This high power soldering station is designed for Automotive heavy mass components soldering, Power type Film Capacitors soldering and soldering of Solar Panels at lower temperature to avoid any micro cracks. Touch Button control Panel also has provision for pre-programming of 3 Frequently used production process temperatures for quick recalling.