Dry Cabinet, Dry Storage Cabinet, Features, Principle, Price and Sale
Hi-Performance 5~50% RH Dehumidifying Dry Cabinets (Dry Storage Cabinets)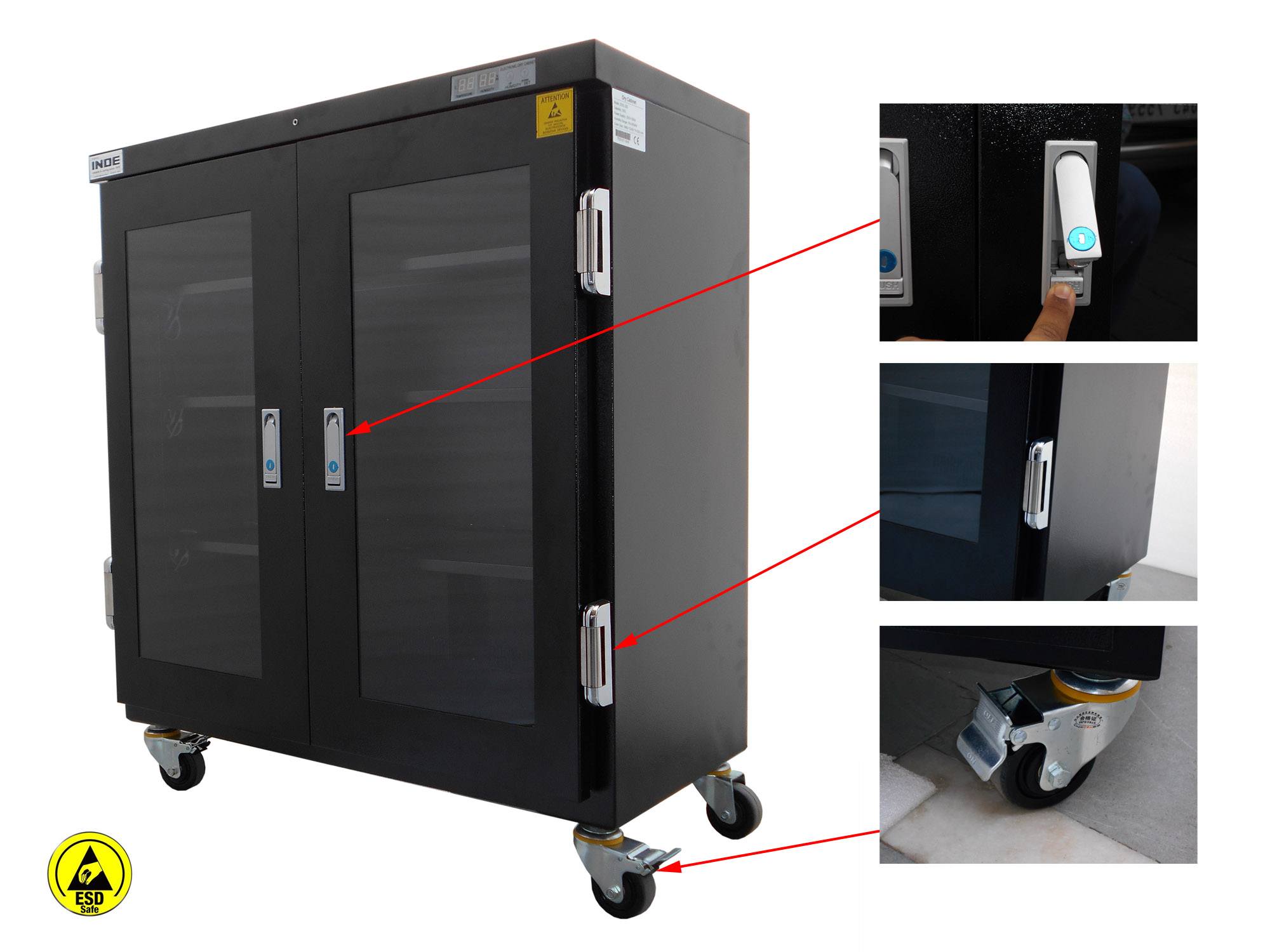 In Dry Cabinets (also known as Dry Storage Cabinets) supplied by INDE the humidity is sucked out from inside the storage cabinets by use of dry powerful zeolite desiccant. The desiccant is automatically recycled with an in-built heating mechanism. It does not require any replacement. The moisture absorbed by the zeolite desiccant is released outside of the dry cabinet.
ESD Safe Dehumidifying Dry Storage Cabinets are a must to maintain high reliability of Bare/Assembled PCBs and expensive VLSI ICs & other SMD components. Photography experts also need our dry storage cabinets for storing their expensive DSLR Cameras and lenses. Our Dry Storage Cabinets not only prevent moisture from entering into SMD circuits and lenses, but also prolong their life significantly.
Miniaturization in electronics field require use of expensive VLSI (Very Large Scale Integration) ICs that are not only sensitive to static charge but are also vulnerable to uncontrolled moisture. Such ICs need higher level of moisture control as otherwise they will have internal cracking during reflow process because of moisture expansion. Prevention lies in storing such ICs in ESD Safe and Humidity controlled Dry Storage Cabinets.
We at INDE Enterprises offer Hi-Performance 5~50% RH Dehumidifying Dry Storage Cabinets to suffice your critical needs. We have an extensive range of Dry Cabinets available from 60 liters capacity to 1428 liters with double desiccator for fast recovery. These dry storage cabinets (dry cabinets) conforms to IPC/JEDEC J-STD 033C standards for storing even expensive VLSI IC packages.
Made of cold rolled steel these dry cabinets are painted using ESD safe conductive paint and uses semi-permanent desiccants to control the humidity levels between 5~50% RH.
Various models of Dry Storage Cabinets (often called as Dry Cabinets) available with us:

These dry cabinets are for sale on cash on delivery basis throughout India - Some of the cities where we are readily delivering these dry storage cabinets (dry cabinets) include Delhi, Mumbai, Chandigarh, Kolkatta, Bengaluru, Chennai, Hyderabad, Faridabad, Ludhiana, Amritsar, Goa, Jabalpur, Ranchi.
Uses of our dry cabinets:
Mass Media Storage:
Cameras, Photographic
SMD Components
VVLSIs, Storage Chips
Audio Visual products
Optical Lenses etc.
Food & Drug Storage:
Dehydrated Food
Powder Food
Health Food
Tea Samples etc.
Some of the other aspects of our dry storage cabinets (dry cabinets) are:
Four heavy duty castor wheels with two lockable front wheels.
Two desiccators that ensure faster humidity recovery process.
Digital Thermo Hygrometer to display the level of humidity.
Additional adjustable feet for leveling and permanent positioning (This option is available in IDSC-510 model).
Rugged handles lock by just pressing on the handles.
The dry cabinets carry a warranty of 12 months from the date of invoice.
The working of ESD Dry Cabinets IDSC 240 and IDSC 320 (Videos):
Why our desiccant technology based Dehumidifying Dry Storage Cabinets are virtually maintenance-free?
Desiccant technology uses highly porous crystalline material belonging to alumino silicates class, called Zeolite. Zeolite desiccant is refreshed by controlled heating and allows the trapped moisture in it to escape thru the vents located at the back side of the Cabinet. Once Zeolite desiccant material is refreshed thru heating, it seals off the back side vents and opens to the interior side for dehumidification to set level as programmed.
The dehumidification level inside is continuously compared to the preset level till it achieves the desired RH level. Zeolite material Re-heating of the Zeolite desiccant material starts only when the humidity inside the cabinet exceeds the absorption capacity of Zeolite drying material. Normally the re-generation of the Zeolite desiccant material thru just 8 minutes heating, suffices for many weeks of dehumudification process.
Absorption Stage:
Valves are opened inward and closed outward in order to absorb moisture in the desiccators from the Cabinet and stored items/ components placed inside and maintains the set humidity with repeated process.
Exhaustion Stage:
Valves are closed inward and opened outward in order to exhaust moisture from saturated desiccators to atmosphere outside the dehumidifying dry cabinet.
View of our Dry Cabinets
Powerful build quality, ESD safe, long lasting, 100% reliable, 100% after sales service, in-built stabilizer, 3000+ clients in India, all spare parts available, ex-stock, cash on delivery, best price offer in India. Call us right now.
Dry Cabinet IDSC-240
Dry Cabinet IDSC-2180
Dry Cabinet IDSC-2120
Dry Cabinet IDSC-940
Dry Cabinet IDSC-540E
Dry Cabinet IDSC-510
Dry Cabinet IDSC-320
Dry Cabinet IDSC-240SS