Dry Cabinet Features and Principle
Hi-Performance 5~50% RH Dehumidifying Dry Cabinets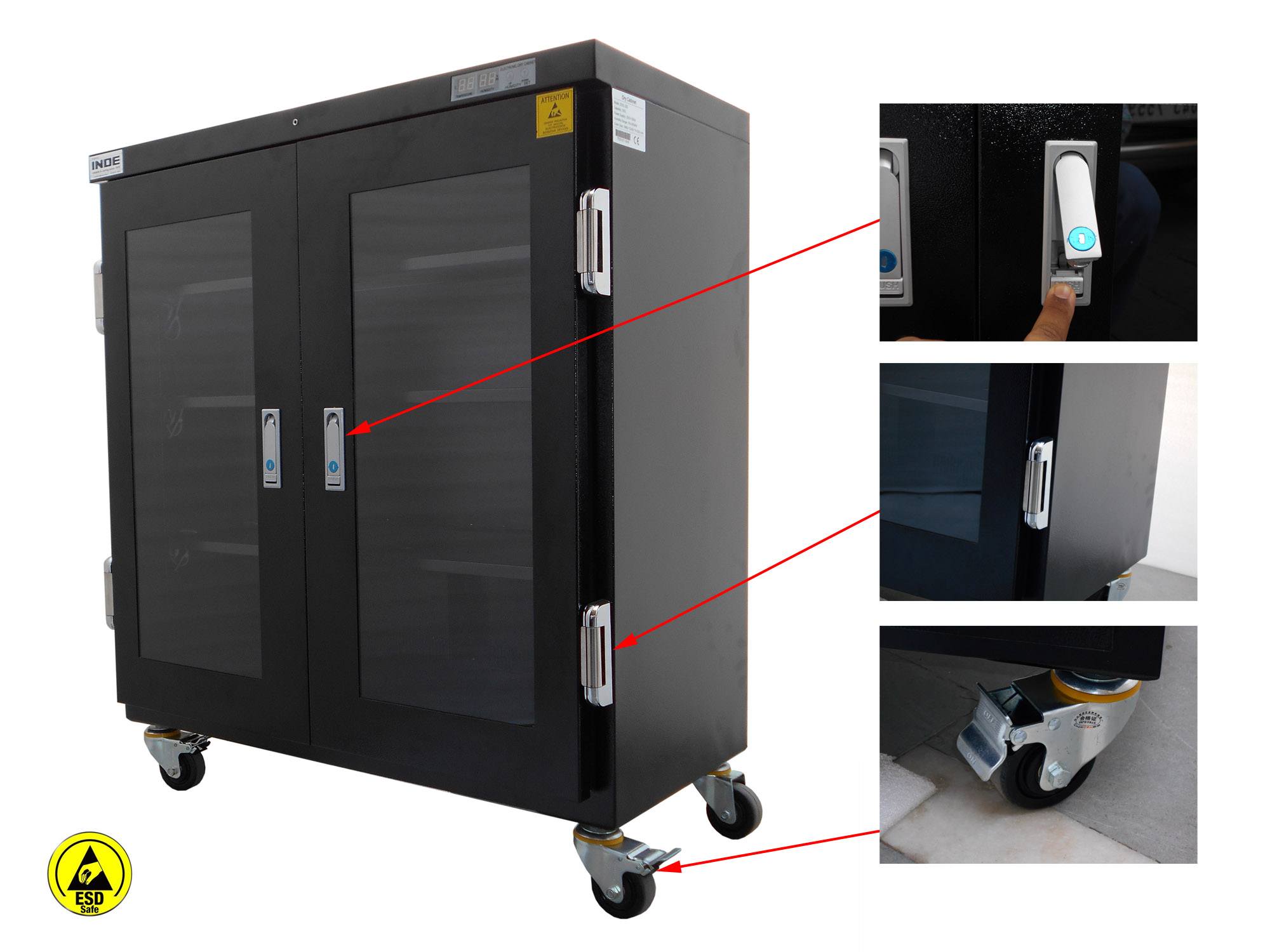 In Dry Cabinets supplied by INDE the humidity is sucked out from inside the storage cabinets by use of dry powerful zeolite desiccant. The desiccant is automatically recycled with an in-built heating mechanism. It does not require any replacement. The moisture absorbed by the zeolite desiccant is released outside of the dry cabinet.
ESD Safe Dehumidifying Dry Storage Cabinets is are a must to maintain high reliability of Bare/Assembled PCBs and expensive VLSI ICs & other SMD components.
Miniaturization in electronics field require use of expensive VLSI (Very Large Scale Integration) ICs that are not only sensitive to static charge but are also vulnerable to uncontrolled moisture. Such ICs need higher level of moisture control as otherwise they will have internal cracking during reflow process because of moisture expansion. Prevention lies in storing such ICs in ESD Safe and Humidity controlled Dry Storage Cabinets.
We at INDE Enterprises offer Hi-Performance 5~50% RH Dehumidifying Dry Storage Cabinets to suffice your critical needs. We have an extensive range of Dry Cabinets available in 510, 320 & 240 litre capacity with double desiccator for fast recovery. These dry cabinets conforms to IPC/JEDEC J-STD 033C standards for storing even expensive VLSI IC packages.
Made of cold rolled steel these dry cabinets are painted using ESD safe conductive paint and uses semi-permanent desiccants to control the humidity levels between 5~50% RH.
Three models available:
IDSC-510: A four door dry cabinet with storage capacity of 510 liters.
IDSC-320: A two door dry cabinet with storage capacity of 320 liters.
IDSC-240: A two door dry cabinet with storage capacity of 240 liters.
Some of the other aspects of these dry cabinets are:
Four heavy duty castor wheels with two lockable front wheels.
Two desiccators that ensure faster humidity recovery process.
Digital Thermo Hygrometer to display the level of humidity.
Additional adjustable feet for leveling and permanent positioning (This option is available in IDSC-510 model).
Rugged handles lock by just pressing on the handles.
The dry cabinets carry a warranty of 12 months from the date of invoice.