Dry Cabinet, Dry Storage Cabinet, Features, Principle, Price and Sale
Hi-Performance 5~50% RH Dehumidifying Dry Cabinets (Dry Storage Cabinets)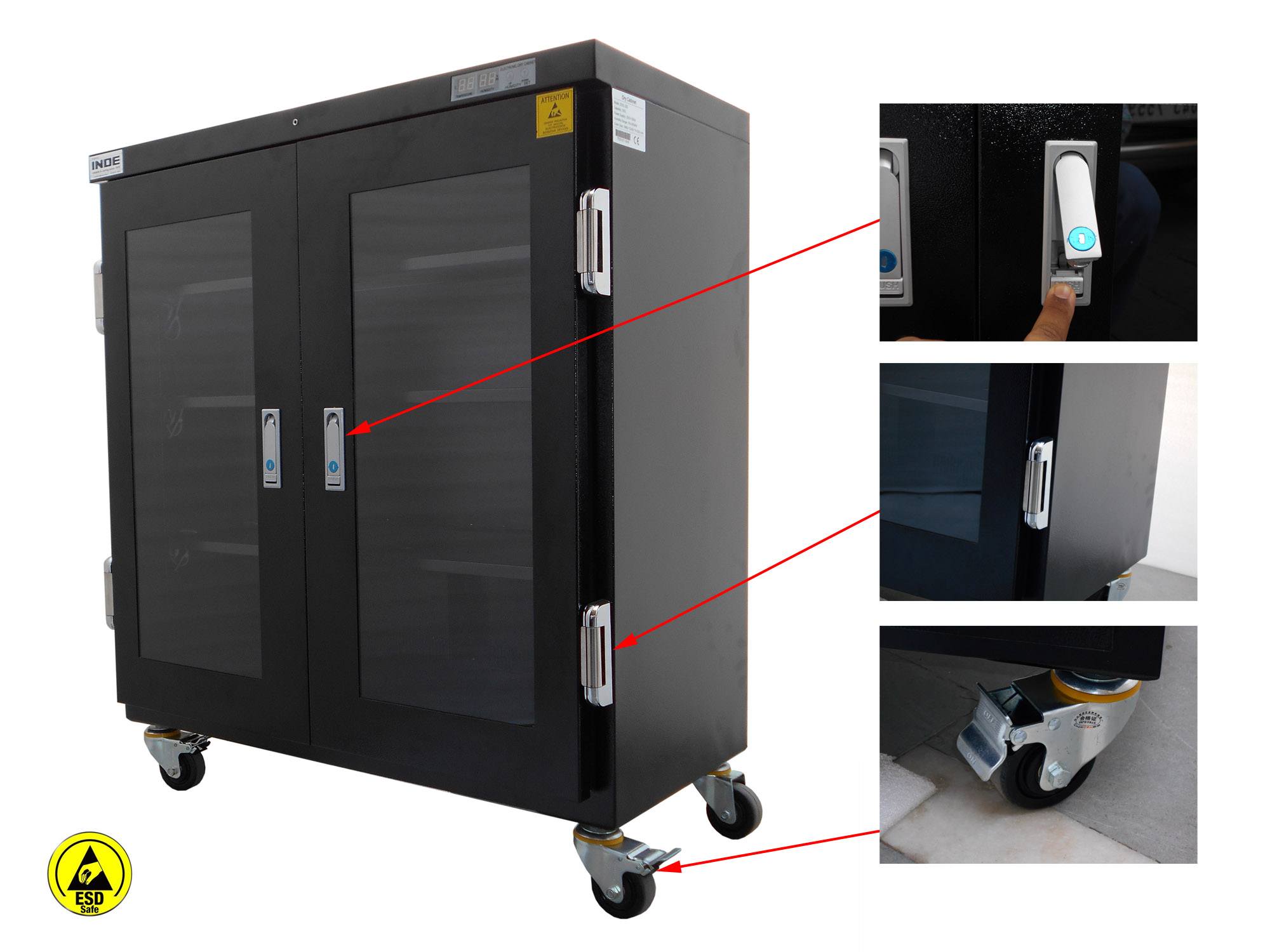 In a Dry Cabinet (also known as Dry Storage Cabinet) supplied by INDE Enterprises the humidity is sucked out from inside the storage cabinets by use of dry powerful zeolite desiccant. The desiccant is automatically recycled with an in-built heating mechanism. It does not require any replacement. The moisture absorbed by the zeolite desiccant is released outside of the dry cabinet.
We sell ESD Safe and Non-ESD INDE Dry Cabinets that do not require Nitrogen for their operation.
ESD Safe Dehumidifying Dry Storage Cabinets are a must to maintain high reliability of Bare/Assembled PCBs and expensive VLSI ICs & other SMD components. Photography experts also need our dry storage cabinets for storing their expensive DSLR Cameras and lenses. Our Dry Storage Cabinets not only prevent moisture from entering into SMD circuits and lenses, but also prolong their life significantly.
Miniaturization in electronics field require use of expensive VLSI (Very Large Scale Integration) ICs that are not only sensitive to static charge but are also vulnerable to uncontrolled moisture. Such ICs need higher level of moisture control as otherwise they will have internal cracking during reflow process because of moisture expansion. Prevention lies in storing such ICs in ESD Safe and Humidity controlled Dry Storage Cabinets.
We at INDE Enterprises offer Hi-Performance 5~50% RH Dehumidifying Dry Storage Cabinets to suffice your critical needs. We have an extensive range of Dry Cabinets available from 60 liters capacity to 1428 liters with double desiccator for fast recovery. These dry storage cabinets (dry cabinets) conforms to IPC/JEDEC J-STD 033C standards for storing even expensive VLSI IC packages.
Made of cold rolled steel these dry cabinets are painted using ESD safe conductive paint and uses semi-permanent desiccants to control the humidity levels between 5~50% RH.
VARIOUS MODELS OF DRY CABINETS
Hi-Performance 5~50% RH Dehumidifying Dry Cabinets (Dry Storage Cabinets)
INDE Dry Cabinets are for sale on Cash On Delivery (COD) basis throughout India. Some of the cities where we are already delivering these dry storage cabinets (dry cabinets) include Delhi, Mumbai, Chandigarh, Kolkatta, Bengaluru, Chennai, Hyderabad, Faridabad, Ludhiana, Amritsar, Goa, Jabalpur, Ranchi and more.
USES OF DRY STORAGE CABINETS
MASS MEDIA STORAGE
Cameras, Photographic
SMD Components
VVLSIs, Storage Chips
Audio Visual products
Optical Lenses etc.
FOOD AND DRUGS STORAGE
Dehydrated Food
Powder Food
Health Food
Tea Samples etc.
OTHER ASPECTS OF DRY STORAGE CABINETS (DRY CABINET)
Four heavy duty castor wheels with two lockable front wheels.
Two desiccators that ensure faster humidity recovery process.
Digital Thermo Hygrometer to display the level of humidity.
Additional adjustable feet for levelling and permanent positioning (This option is available in IDSC-510 model).
Rugged handles lock by just pressing on the handles.
The dry cabinets carry a warranty of 12 months from the date of invoice.
BENEFITS OF INDE DRY CABINETS OVER MOISTURE BARRIER BAGS (MBBs)
INDE Dry Cabinet saves labor, cost and silica gel. User can place the electronic component trays, reels directly into cabinet without having to be placed into Moisture Barrier Bag. It is easier, more effective than MBB. There are no problems of MBBs like improper sealing, punctures of the bags and in general much less trouble than to pack/repack materials in bags.
Dry Cabinets sold by INDE Enterprises require very minimal maintenance and it can serve you many many years without a hitch or glitch. We thoroughly test all our dry cabinets for voltage fluctuations, sudden voltage spikes and controlled humidity environment.
IN CASE OF ANY PROBLEM / ISSUE
All dry storage cabinets manufactured by INDE Enterprises strictly conforms to very high quality standards with negligible operational problems. We however propose to offer companies with comprehensive maintenance plan modules. The designs of INDE Dry Cabinets are extremely modular and can be repaired with just a module replacement anytime anywhere.
INDE Enterprises offer the main modules like desiccator controller, alarm module, electronic control module separately for all our dry cabinet models (even for all the discontinued models). Our esteemed customer can easily plug-and-play these at their own end. We have the full capability to repair these cabinets at our offices in Bangalore, Delhi and Chandigarh. INDE Enterprises also offer on-site support on a nominal charged basis.
TO OBTAIN OPTIMUM PERFORMANCE
INDE Dry Cabinets are designed and manufactured to perform at an optimum level at all times. However, to get the best out of our Dry Cabinets there is an electronic calibration feature in every dry cabinet. We provide a comprehensively detailed instruction manual for the same. A calibration of dry cabinet is required once every year particularly if you keep sensitive SMD components and expensive DSLR camera lenses to store it. The procedure of calibration is very simple.
To get the best performance out of INDE Dry Cabinet, do keep it away from direct sunlight or near to heat sources. Keep adequate space between the rear of the INDE Dry Cabinet and the wall to allow proper venting. To avoid the valve doors being blocked by tiny objects and dust particles keep it in clean environment. Just as a precautionary measure do not store items inside the INDE Dry Cabinet too close to the desiccator unit. This may hinder the proper functioning of desiccator and the humidity level may not be reduced. These basic steps are enough to get the best out of our Dry Cabinets. These implies to all modes of our dry cabinets.
RECOVERY TIME OF A DRY CABINET
The fundamental objective of a Dry Cabinet is to maintain a preset RH (Relative Humidity) level inside the cabinet to help protect the products placed inside it away from the outside humidity. However, once the door of the Dry Cabinet is opened the 'RH' value inside the cabinet suddenly increases due to exposure to outside humidity. Recovery time of a Dry Cabinet is the time required for the cabinet to reach the RH level inside the cabinet back to its set point after the door has been opened and closed. The Recovery Time of our dry cabinet is very quick as we see this feature mandatory to protect sensitive SMD components from any prolonged exposure to high humidity. We use top quality desiccators in our dry cabinets to ensure smooth running for many years without any problem.
The main unit of the dehumidifying cabinet  contains powerful molecular sieve desiccants. These molecular sieve desiccants traps moisture via van-der-Waals force and capillary attraction. Thus, during  power outage, the INDE Dry Cabinets continues its de-humidification abilities.
INDE DRY STORAGE CABINETS -  THE LARGEST BASE PAN INDIA WITH REPEAT ORDERS
INDE Enterprises is the Number 1 Supplier of Dry Storage Cabinet (Dry Cabinet) in India with largest installation base PAN India with repeat orders. INDE Dry Storage Cabinets are simply the best in India. We are constantly updating all our visitors about our new clients on our official Twitter Account - however, some of our repeat order clients are:
| | | |
| --- | --- | --- |
| Alligator Designs Pvt. Ltd. Bangalore | Alan Electronic Systems Pvt. Ltd., Ambernath | Ananth Technologies Ltd., Hyderabad |
| Ananth Technologies Ltd., Trivandrum | Apex Electronics Secunderabad | Autotech Systems Pvt. Ltd., Bangalore |
| Axiom Research Labs Pvt. Ltd. Bangalore | Bharat Electronics Ltd., Jalahalli, Bangalore | Bharat Electronics Ltd. Kotdwara |
| Bharat Electronics Ltd., Panchkula | Bharat Dynamics Ltd., Visakhapatnam | Blue Chip Electronics, Secunderabad |
| Bluechip Infotech West Bengal | Centum Electronics Ltd. Bangalore | Computronic Sales Corporation Allahabad |
| Centre for Development of Telematics, New Delhi | Centre for High Energy System and Sciences (CHESS) | Cinehive Web Technologies Pvt. Ltd. Chennai |
| China Steel Corporation India Pvt. Ltd. | Olympus Medical Systems India Pvt. Ltd. Gurgaon | PCP Electronics (P) Ltd. Mysore |
| Physical Research Laboratory, Ahmedabad | Raja Ramana Centre for Advanced Tech Indore nology (RRCAT) | Rajshree Electro-Systems Thane, BARC |
| Rajshree Electro-Systems Thane | Rashi Peripherals Pvt. Ltd. Chandigarh | Refurb Tech, Chennai |
| Research Centre Imarat, Hyderabad | Saalfo Tech Pvt. Ltd., Mysore | Sahajanand Laser Technology Ltd. Gandhinagar |
| Secure Meters Ltd., Udaipur | Sai Techno Vision, Panvel | Shakti Pumps (India) Limited, Pithampur |
| S. H. Enterprises, Mumbai | Shiv Nanadar University UP | Sivavasu Industries Trivandrum |
| SLN Technologies Pvt. Ltd. Bangalore | Solid State Physics Lab, Delhi | Spectrum Infotech Pvt. Ltd. Bangalore |
| SS Technology Mysore | Sumitron Exports Pvt. Ltd. Delhi | TAK Technologies Pvt. Ltd. Noida |
| The Controller of Stores and Purchase Thiruvananthapuram | Toshiba Transmission & Distribution Medak Distt. (TG) | Tymtix Technologies Pvt. Ltd. Bangalore |
| Vanimadhav Moolchand Suppliers Kanpur | Vikram Sarabhai Space Centre Trivandrum | Young India Power Pvt. Ltd. Kolkata |
New Dry Storage Cabinet – IDSC-180
New Dry Storage Cabinet GSF720
Working Video and Settings of ESD Dry Cabinet IDSC-240
Working Video and Settings of ESD Dry Cabinet IDSC-320
WHY DESICCANT TECHNOLOGY BASED DRY STORAGE CABINETS ARE VIRTUALLY MAINTENANCE FREE?
Desiccant technology uses highly porous crystalline material belonging to alumino silicates class, called Zeolite. Zeolite desiccant is refreshed by controlled heating and allows the trapped moisture in it to escape thru the vents located at the back side of the Cabinet. Once Zeolite desiccant material is refreshed thru heating, it seals off the back side vents and opens to the interior side for dehumidification to set level as programmed.
The de-humidification level inside is continuously compared to the preset level till it achieves the desired RH level. Zeolite material Re-heating of the Zeolite desiccant material starts only when the humidity inside the cabinet exceeds the absorption capacity of Zeolite drying material. Normally the re-generation of the Zeolite desiccant material thru just 8 minutes heating, suffices for many weeks of de-humudification process.
Absorption Stage:
Valves are opened inward and closed outward in order to absorb moisture in the desiccators from the Cabinet and stored items/ components placed inside and maintains the set humidity with repeated process.
Exhaustion Stage:
Valves are closed inward and opened outward in order to exhaust moisture from saturated desiccators to atmosphere outside the dehumidifying dry cabinet.
PICTURES OF INDE DRY STORAGE CABINETS
Robust build quality, All-weather resistant, ESD safe, Long Lasting, 100% reliable, 100% after sales service, in-built stabilizer, 3000+ clients in India, all spare parts available, ex-stock, cash on delivery, best price offer in India. Call us right now on - 093161 34502.