Soldering Stations With or Without Solder Feeder · Lead free · Best price
We offer a comprehensive range of soldering stations with or without solder feeder. We have a long list of happy soldering station clients from both public and private sector. All our soldering stations carry a warranty of 12 months from the date of invoice. Our Soldering Stations are stringently tested at Electronic Test and Development Center (Govt. of India Lab.).  
INDE maintains a reputation of delivering the best value-for-money 90Watt to 320Watt rated Soldering Stations for leadfree & fine SMD soldering as well soldering LED lighting, automotive electronic components, solar cells & panels, high power film capacitors and other industrial electronics applications with no-question-asked type after-sales-service.
We keep high quantity stocks of these Soldering Stations, Soldering Tips & Spare Parts so as to provide immediate delivery for all.
Ultra-Fast SMD Lead Free & Soldering Station
Model: DSSLF04HESD-UF
Hi-quality Lead Free & SMD soldering inherently needs soldering at lower temperature which requires ultra-fast heat transfer type Soldering Station.
Scope of Supply:
ESD Safe Main Power & Control Unit
ESD Safe light weight Soldering Pencil fitted with 303-2.4D Chisel Soldering Tip
Combined Dry & Wet Tip Cleaner Support Rack
303-3.2D Chisel Soldering Tip
303-3C Sloped Soldering Tip 3mm
303-SK SMD Soldering Tip
SMD Liquid Flux Pen
Weller Digital Soldering Station
Model: WSD 81i
German made soldering station widely used for fine pitch SMD and Lead Free Soldering solutions.
Features:
Most popular 80 Watt Digital Soldering Station
Used for fine pitch SMD and Lead Free soldering
In-built Temperature Difference Offset setting
In-built Setback Time (0-99 minutes) setting
Supervisor can define Pre-programmed Temperature Window
Best VFM intelligent Soldering Station
Model: DSSLF04H
Best price and performance for fine pitch SMD and reliable lead-free soldering solutions.
Features:
90 Watt Intelligent Digital Soldering Station
Supervisor can set and lock 2 common process temperatures
In-built Digital Temperature Offset for ISO 9000 calibration
Optional Solder Wire Feeder available to raise productivity
Specially designed for Lead Free & Fine Pitch SMD soldering jobs
Ultra-Fast Thermal Recovery 120 Watt Soldering Station
Model: DSSLF120
Unique soldering station which solders reliably fine pitch SMD and reliable lead-free soldering solution.
Features:
In-built temperature Off-Set feature for calibration from panel itself to meet ISO 9000 requirements
2 Auto-Sleep and Auto-Shut-Off features get activated after pre-set time.
3 Supervisory process temperature lock feature: operators cannot change it.
High production rate with high reliability in solder joints
Lower production cost with higher life of Soldering Tips
Very light weight Soldering Pencil for Operator's comfort
Special Soldering Tips for Solar Panels & Fine Pitch SMD soldering
Same Soldering Station suitable for heavy automotive parts soldering
Add optional Solder Wire Feeding Station to increase operator's productivity and to avoid solder wire wastage
150 Watt High Mass Soldering Station
Model: DSSHP03G
150 watt high power soldering station for heavy soldering applications that is affordably priced for production line usage.
Features:
Production workhorse for heavy mass soldering jobs
3.5 mm (normal soldering) to 16 mm (heavy mass soldering) Tips available
95% Solar Panels makers in China use this Soldering Station
Widely used by Power Capacitors & Automotive Parts Indian makers
Customized Soldering Tips for special applications available
320 Watt Very Hi-Power Soldering Station
Model: DSSHP300
Very affordable and very hi-power soldering station that is both reliable and ideal for any type of very heavy mass soldering applications.
Features:
Used by Heavy Inductor Coils makers in India
Used by High Power Capacitors makers in India
Supervisor can lock optimized process temperature
In-built temperature offset provision for ISO 9000 calibration
In-built programming functions of auto sleep and shut-off
Low Cost Workhorse Soldering Station
Model: DSS36
A value for money type soldering station. It is one of the finest work-horse for budget conscious customers that requires low capital investment + low running cost and uses lower priced soldering tips.
Features:
Widely used by Indian EMS providers because of low capital investment
Lower priced Soldering Tips keeps production cost low
90 Watt Heating Power, reliable LED Digital Display
Temperature Locking with supervisory password
In-built Digital Calibration for ISO 9000
80 Watt Low Cost Soldering Stations for regular Production
Models: Model DSS25A (Analog) | Model DSS25D (Digital)
Custom designed Soldering Tips can be made on special request with MOQ.
Features:
High Quality Ceramic Heating Element
Lightweight handle for long duration use
Digital display for Digital Stations
Comes with Power & Control Unit
Soldering Pencil fitted with Soldering Tip
Soldering Pencil Holder & Cleaning Sponge
Dual Channel Digital Soldering Station
Model: DSSLF2X04H
Each Channel of 90 Watt and Customized Soldering Tips are available.
Features:
Both Soldering Pencils of 90 Watt, each can be used simultaneously.
Good temperature stability during soldering because of rapid thermal recovery
Separate design of Soldering Tip, Temperature Sensor and Heating Element to keep lower running cost
Provision of temperature locking by supervisor ensures optimized soldering process temperature
In-built digital calibration with temperature Off-Set provision to meet ISO 9000 requirements
Provision of programming Auto Sleep function provides electrical energy saving and prolongs life of Heating Element as well of Soldering Tips.
Hi-Power Soldering Station with Solder Feeder
Model: DSF-76D-150
Specially designed for soldering of Solar Panels & Heavy Automotive Electronics.
Features:
Digitized pushbuttons for precise temperature control
Solder Feed Length, Speed and Time Programming Switches
Digital display for Temperature
Soldering Pencil Stand
150 Watt Soldering Pencil
Finger Switch for Feeding desired length of Solder Wire at SET speed
Solder Wire Feeding Assembly
Soldering Station with Solder Feeder
Model: DSF76D
Increases productivity of operators and saves money in solder wire.
Features:
Increases Operator's productivity
Regularly saves wastage of Solder Wire
90 Watt Fast Thermal Recovery Soldering Station
Makes Operator's both hands free
Provides consistency in solder joints quality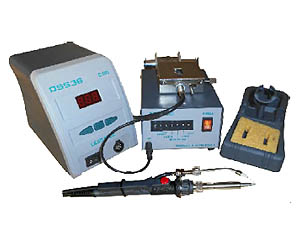 Production Workhorse Low Cost Soldering Station
Model: DSS36 + SFS81
Low capital investment + low running cost, uses lower priced Soldering Tips.
Features:
Temperature Locking with supervisory password
Long Life Ceramic Heating Element
In-built Digital Calibration for ISO 9000
7-Segment reliable LED Digital Display
Soldering Tips available for different applications
Suitable for Lead-Free soldering
Integrated SMD/PTH Soldering Package
Models: SMDSOL-2021-PK1
Features:
Weller WX2021 Set with WXMP & WXMT
Vacuum Pick, Electric, IVS-381
Fume Abosorber, I493
Solder Wire Stand
Table Top LED Magnifier
Solder Wire Roll, 250 gms: 2nos.
Desoldering Wick: 3 nos.
Flux Bottle: 2nos.
Dispenser Bottle: 2nos.
Solder Aid Kit • PLCC Extractor • Tip Activator
ESD Mat Kit • Fine tip Curved Tweezer: 2 nos.
ESD Safe Soft Tip Tweezer • Cutting Pliers: 2 nos.
SMD Tweezer • ESD Safe Cleaning Brush, A2: 2 nos. • Flux Pen: 2nos.
ESD Safe Cleaning Brush, E2