DSSLF2X04H Soldering Station Details available only at INDE
Soldering station DSF-76D-150 specially designed for soldering of Solar Panels & Heavy Automotive Electronics
 • Each Channel of 90 Watt • Customized Soldering Tips are available
Model DSSLF2X04H is a Dual Channel Soldering Station with reliable LED digital display. It also has in-built digital temperature offset feature for calibration to meet ISO 9000 requirements. The temperature control is accurate because of closed loop PID control. Reliable soldering of joints is achieved as thermal recovery is faster because of unique design of soldering tips. It is a real price and performance Dual Digital Soldering Station for 2 operators for both fine SMD and leadfree soldering. This Soldering Station also has in-built feature of indicating error if sensor or heating element fails.
It comes with Unique design of Soldering Pencil.
Features:
Both Soldering Pencils of 90 Watt, each can be used simultaneously.
Good temperature stability during soldering because of rapid thermal recovery
Separate design of Soldering Tip, Temperature Sensor and Heating Element to keep lower running cost
Provision of temperature locking by supervisor ensures optimized soldering process temperature
In-built digital calibration with temperature Off-Set provision to meet ISO 9000 requirements
Provision of programming Auto Sleep function provides electrical energy saving and prolongs life of Heating Element as well of Soldering Tips.
Scope of Supply:
Power & Control Unit
2 x Soldering Pencils
2x Heavy Duty Support Racks
2 x Cleaning Sponges
Specifications:
Power : 180W
Temperature Range :  80°C ~ 480°C
Temperature Stability :  ±2% of final value
Tip to Ground Resistance :  <2Ω
Tip to Ground Potential : <2mV
Sleep Timer :  1 ~ 99 (adjustable)
Input Supply : 230VAC, 50Hz
How to change Soldering Tips
Do not remove the Soldering Tip Locking Ring for changing the Soldering Tips.
To change the Soldering Tip, hook the slot of the Soldering Tip into the pin provided on the stand and pull the handle. The Soldering Tip will come out very easily.
Soldering-Tips-for-soldering-station-DSSLF2X04H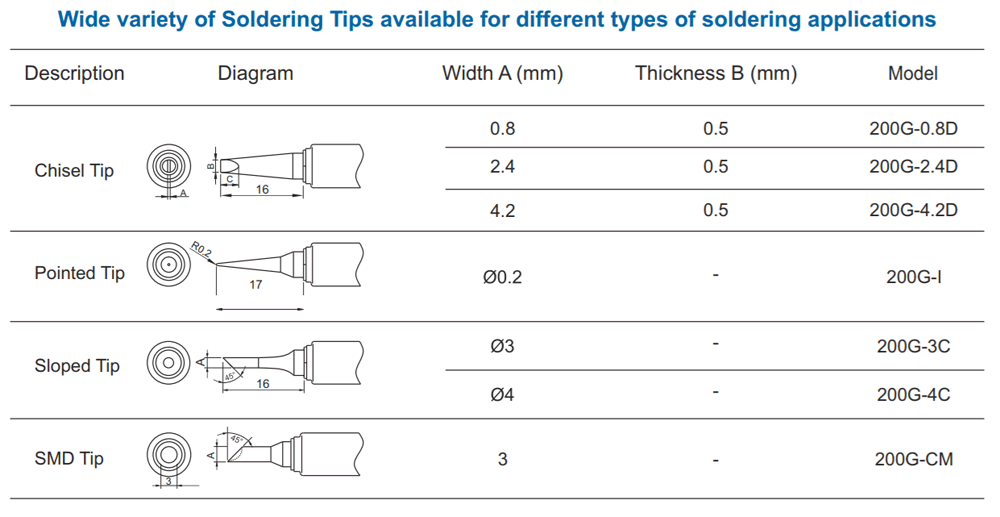 Note:
---
Warranty is 12 months from the date of invoice. It excludes all consumable parts as Heating Elements, Temperature Sensors, Soldering/Desoldering/Hot Air Tips, Cleaning Sponges, Cleaning Brass Wool.
Assured availability, normally ex-stock, of Spare Parts for Soldering Pencil.