Soldering Station with Solder Feeder
Hi-Power Soldering Station with Solder Feeder
Model: DSF-76D-150
Specially designed for soldering of Solar Panels & Heavy Automotive Electronics.
Features:
Digitized pushbuttons for precise temperature control
Solder Feed Length, Speed and Time Programming Switches
Digital display for Temperature
Soldering Pencil Stand
150 Watt Soldering Pencil
Finger Switch for Feeding desired length of Solder Wire at SET speed
Solder Wire Feeding Assembly
Soldering Station with Solder Feeder
Model: DSF76D
Increases productivity of operators and saves money in solder wire.
Features:
Increases Operator's productivity
Regularly saves wastage of Solder Wire
90 Watt Fast Thermal Recovery Soldering Station
Makes Operator's both hands free
Provides consistency in solder joints quality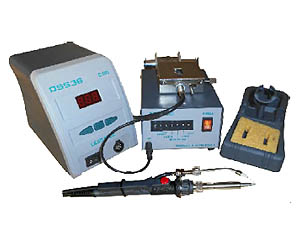 Production Workhorse Low Cost Soldering Station
Model: DSS36 + SFS81
Low capital investment + low running cost, uses lower priced Soldering Tips.
Features:
Temperature Locking with supervisory password
Long Life Ceramic Heating Element
In-built Digital Calibration for ISO 9000
7-Segment reliable LED Digital Display
Soldering Tips available for different applications
Suitable for Lead-Free soldering