USB Microscopes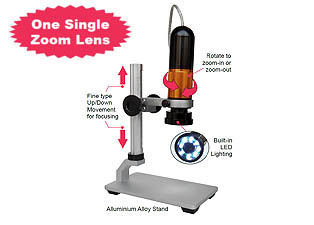 Polarized 5 MP Digital Video Microscope
Model: IUSB-5PS
This long focal distance USB microscope is designed for QC inspection and is also allows operations under the microscope.
Features:
No need for any external or internal interface card, plugs directly to USB Port of Computer.
Automatic or manual color balance and control with software
Automatic or manual brightness control with software
Video Microscope for QC Inspection
Model: MagnaPro12
5 Megapixel USB type and supplied with Measurement Software Adjustable Stand.
Features:
Image sensor : 5 Megapixels
Magnification : 20 ~ 200x and 300x
Focus range : Manual focus from 10mm to 50mm
Supplied with Measurement Software
Adjustable Stand