Fume Extraction Systems · Fume Absorbers (Solder · Chemical · Laser Dust)
Hi-End 2-Operators Solder Fume Extraction System
Model: FumePRO201-75LC
Couple of 100's (in repeat orders) working reliably all over India for the last many years.
Features:
No plumbing required, ready-to-use complete package
Hassle free installation with all inclusive kit
Easy-to-manoeuver Fume Extraction Arms
Brushless DC Turbine generates higher airflow
Has very low noise (< 65 dBA) in operation
Triple-filter design removes hazardous substances from fumes.
Extraction Arms positioning adjustable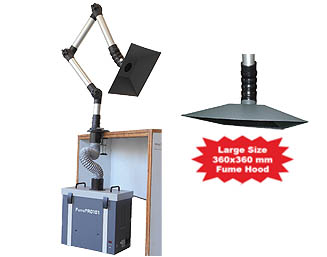 Laser Dust & Chemical Fumes Extraction System
Model: FumePRO101-LDCF
Model FumePRO101-LDCF is an effective Fumes Extraction System for laser dust and chemical adhesives type fumes
Scope of supply:
Metallic Case Extraction/Control Unit
4-Part Metallic Hose with small Flexible Hose
360 x 360mm Square Metal Absorber
Bottom Hi-Temperature Connection Hose
Metallic Benchtop Bracket with two Clamps
One Electronic Speed Control Regulator
One Spare Dust Filter
Table Clamp Solder Fume Absorber
Model: I493-A
Adjustable Extension Arm & Angle of Fume Absorber provide unique advantage that it is directly on the top of solder fumes.
Specifications:
Removes noxious fumes quickly, operator will not inhale the same directly.
Clamp type design saves your work space
Easier and convenient extension arm provides easy angle adjustment as per solder fumes absorption requirement
Replaceable filter is made from urethane with refined, activated high absorption carbon
Power consumption: 20 Watt
Input supply: 220V AC, 50 Hz